Our group's Echelon Conference, delivered by Echelon Consultancy and Pretium Frameworks and sponsored by Devonshires, took place at Stamford Bridge on Thursday 21st October, with a headline theme of sustainability.
The Harris Suite played host to the keynote sessions sponsored by Mears Group PLC.
Our group CEO Mathew Baxter opened the conference, with a look back at the last 18 months and how the sector has pulled together during the pandemic.
He was followed by regenerative sustainability provocateur and consultant Martin Brown, whose Fairsnape practice supports, counsels and provokes clients, designers, contractors, academic and industry groups on regenerative journeys and discoveries.
Martin is also author of FutuREstorative, Working Towards a New Sustainability, long-time advocate for the Living Building Challenge, Vice-President at Living Future Europe and founder of global conscious collective Zoom Regenerative.
He urged delegates to consider whether they are being regenerative or degenerative in a thought-provoking keynote session.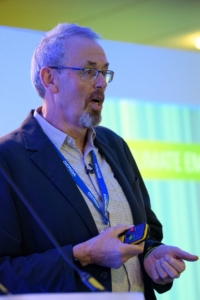 The afternoon keynote focused on the future of heating with presentations from Parth Mehta, Business Development Director, EQUANS UK & Ireland, and Alastair Thorpe, Account Director at Vattenfall, a Swedish state-owned energy business.
Alastair outlined Vattenfall's commitment to fossil fuel free living within one generation, and how he is promoting the build out of large scale low-to-zero carbon heat networks across the UK. Parth talked about EQUANS' strategy for empowering transitions and enabling a low-carbon energy era.
A series of innovariums were also held throughout the day.
In the Tambling Suite, sponsored by EQUANS, Niall O'Rourke, Director of Safe Buildings, Metropolitan Thames Valley Housing and Emma Burton, Assistant Director of Building Safety at Peabody covered the Practical Application of the Building Safety Bill.
Emma is helping Peabody establish a Building Safety Team to manage its 200 high-rise blocks and investigate all of their external walls to ensure that they meet the new requirements of the Fire Safety Act. Emma is working as an Early Adopter with MHCLG and the new shadow regulator to test and research how to implement the Hackitt recommendations through the Building Safety Bill and help to lead the change in Building Safety culture. 
In April 2020 Niall become the Director of MTVH's newly established Safer Buildings Department and has recruited a new department focused on delivering all aspects of the Safer Building Agenda including delivery of the intrusive survey programme, interim measures, remedial works, resident communications and building information management.
Remote Monitoring for Healthy & Sustainable Homes was the focus of the next session. Phil Copperwheat, Information Systems Director, Morgan Sindall Property Services, talked about how the company's Goldeni system is helping to create healthy homes, while Phil Pemberton, Director of Assets, Riverside Group, who talked about its journey to deliver its business plan and how data can be collected and used, as well as innovation and the challenges that will be posed by AI and the Internet of Things.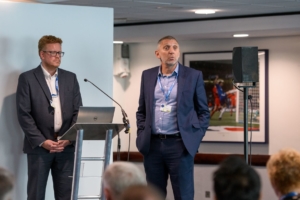 In the Hollins Suite, sponsored by Langley Roofing Systems, the first session started with a presentation by Jenny Osbourne MBE, Chief Executive of Tpas England, who discussed the Charter for Social Housing Residents whitepaper.
She talked about what impacts most on the tenant/landlord relationship, building trust and why deafening silence doesn't mean that everything is okay.
She was followed by echelon Group CEO Mathew Baxter who talked about a new way of capturing and delivering social value​ and why early identification of opportunities and being proactive is important.
The mid-afternoon innovarium focused on Sustainable Solutions and included presentations from Jay Taylor, Area Sales Manager at Northgate Vehicle Hire  which delivers Pretium Flexible Fleet Services framework and Megan Adlen, Group Sustainability Director at Travis Perkins PLC.
Jay spoke about the company's plan to roll out electric vehicle charging locations and its view on sustainability and carbon reduction for fleets.
Megan outlined Travis Perkins' decarbonbonisation roadmap and how it is supporting suppliers and clients to reduce their carbon footprint.
The day was rounded off with a Q&A, chaired by Mathew, with our expert panel comprising Martin and Parth, as well as Mark London (partner at Devonshires), Niall O'Rourke (Director of Safe Buildings, Metropolitan Thames Valley), Stuart Hough (Managing Director, Travis Perkins Managed Services), Megan Adlen (Group Sustainability Director, Travis Perkins PLC) and Mike Turner (Executive Director at Ian Williams Ltd).
Delegates were able to participate in the discussions throughout the day and put their questions to the speakers using sli.do, which was sponsored by Ian Williams, while Gerda sponsored the lanyards.
The conference was followed with a drinks reception sponsored by Gilmartins and charity dinner, sponsored by Morgan Sindall Property Services, which raised over £26,000 for Herts Young Homeless through a raffle and auction.
All of the presentations can be viewed below:
Keynotes:
Innovariums: